How It All Began...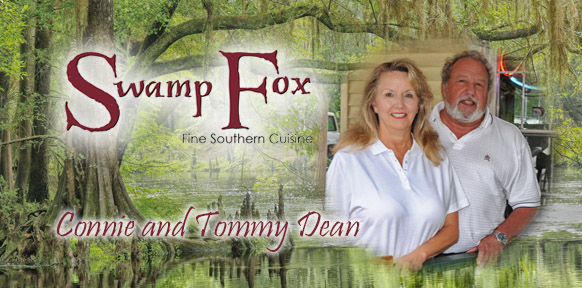 We are Connie and Tommy Dean. We met and fell in love many years ago while working together for a non-profit organization. Our love for catering aided us in handling the major fundraiser for the national organization, as well as many events for the regional chapters. We had fun while gaining valuable experience hosting prestigious and memorable events that included celebrities from Hollywood, Local and National Politicans and all kinds of athletes from the sports arena.
Our roots are southern. We learned many mouth-watering recipes from our parents. As children we assisted our mothers and grandmothers in preparing the family meals, setting the table, bringing out the food, all things that good children should do.
Responding to our inner drive to open an eatery, we originally started a small restaurant where the locals could enjoy down home, country style cooking in a quaint friendly atmosphere, as well as offering made-from-scratch cakes and all types of catering services. After awhile, we decided to change the sustainable food landscape by creating one of America's great restaurants with Swamp Fox, which epitomizes sophisticated contemporary cuisine in the heart of Aiken. Whether it's breakfast, lunch or dinner or a catered event, at Swamp Fox we strive to achieve the utmost in customer satisfaction.
Come to Swamp Fox and enjoy the fine dining and impeccable service that ensures an unparalleled dining experience at every visit.
Thank you,
Connie & Tommy Dean
Huge Wine Selection

Fine Wines for all Occasions. Alcoholic & Non Alcoholic Drinks.

Read More
Catering

We provide catering for all parties, events and get-togethers

Read More
Make Reservations

Reservations can be made up to one month in advance for dinner.

Read More
Happy Hour

If you don't have time for a long lunch with coworkers, try meeting them for happy hour.

Read More
Gift Certificates

Treat friends and family to a memorable dining experience at Swamp Fox with our Gift Certificates

Read More
Directions

We are just at your fingertips, please feel free to Google us.

Read More

Monday
Open This Monday September 8, 2014 Only-
11 am to 2 pm
Lunch:

Tuesday - Sunday
11 am to 4 pm
Sunset Special:

Tuesday - Saturday
4 pm to 6:15 pm
Dinner:

Tuesday - Saturday
4 pm to until