Drink Menu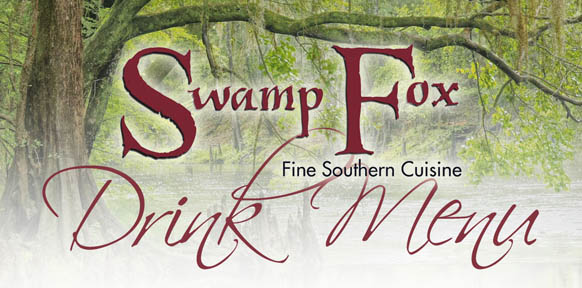 See Our Wine Menu Wine Menu
Swamp Fox would like to Welcome you to Happy Hour every weekday from 3 to 6.
If there's something that is not on our menu, ask your waiter we maybe able to make it for you.
Print Menu
Click here to print our Dink Menu.
Domestics

Budweiser
Bud Lite
Coors Lite
Fat Tire
Michelob Ultra
Miller Lite
Sam Adams
Yuengling
Imports

Corona
Heineken
New Castle
Stella Artois
Shock Top
Microbrews
Ask your server what local brews are in.
Cocktails

Sour Apple Martini

Vodka, Sour Apple Pucker, triple sec, sweet and sour

Chocolate Martini

Splashes of Créme de Coca, Godiva, Bailey's, Kahlua, Vodka

Swamparita

Tequila, Disaronno, triple sec, sweet and sour

Dirty Palmer

Firefly Vodka, Peach Schnapps and lemonade

Peach Keen

Absolute Peach, Peach Schnapps, and cranberry

Blue Hawaiian

Tequila, Chambord, triple sec, sweet and sour, blue curacao

Long Island Ice Tea

Vodka, Gin, Rum, Tequila, triple sec, sweet and sour and coke

Adios Amigo

Vodka, Gin, Rum, triple sec, sweet and sour, blue curacao, and sprite

Cosmopolitan

Vodka, Cranberry, triple sec, lime juice

Lemon Drop Martini

Absolute Citron, Gran Marnier, triple sec, sweet and sour
Shooters

Royal Flush

Crown Royal, Peach Schnapps, and cranberry

Chocolate Cake

Absolute Citron and Frangelico

Washington Apple

Crown Royal, Apple Pucker and cranberry

Mind Eraser

Vodka, Kahula and tonic

The Preston

Crown Royal, Chambord, sweet and sour
Huge Wine Selection

Fine Wines for all Occasions. Alcoholic & Non Alcoholic Drinks.

Read More
Catering

We provide catering for all parties, events and get-togethers

Read More
Make Reservations

Reservations can be made up to one month in advance for dinner.

Read More
Happy Hour

If you don't have time for a long lunch with coworkers, try meeting them for happy hour.

Read More
Gift Certificates

Treat friends and family to a memorable dining experience at Swamp Fox with our Gift Certificates

Read More
Directions

We are just at your fingertips, please feel free to Google us.

Read More

Monday
Open This Monday September 8, 2014 Only-
11 am to 2 pm
Lunch:

Tuesday - Sunday
11 am to 4 pm
Sunset Special:

Tuesday - Saturday
4 pm to 6:15 pm
Dinner:

Tuesday - Saturday
4 pm to until