Catering Menu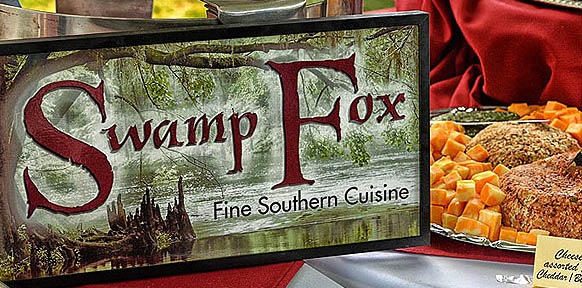 To receive a quote for all your catering needs, please check the desired items from the eight different categories and press submit. We will contact you as soon as possible with the information you need to allow your event to proceed as smoothly as possible. Thank you for choosing Swamp Fox Catering.
In order to execute your event, a signed copy of the Event Orders and Banquet Contract must be returned to Swamp Fox. The signed contract with deposit will lock in prices.
Special Catering Requirements
Whether you are planning a business or private reception, party, holiday, get-together or special event, let Swamp Fox take care of all the details. Rely on us for everything from gourmet party platters to lavish hos d'oeuvres to imaginative buffets and full-service dinner parties. Our professional personal are dedicated to providing the finest in food presentation and service that is important to the success of any occasion.
Delivery Service
Party Platters and hot catering orders can be delivered to your home or office at your request. Our professional staff is also available to setup your deliver if you like. Gratuities are at your discretion. We will do our best to accommodate last minute orders, but whenever possible 48-hours advance notice is appreciated.
Corporate Accounts
Swamp Fox is pleased to offer the convenience and flexibility of corporate charge account for frequent business customers. For more information regarding credit, billing procedures and monthly minimums requirements, please contact us at (803) 642-5111